QuickBooks
According to recent PPAI statistics, over 60% of the industry relies on QuickBooks to run their business. The OrderTrax2 QuickBooks Plug-in makes OrderTrax2 fully compatible with your QuickBooks system, allowing you to get the full benefits of OrderTrax2 as soon as possible.
OrderTrax2 works alongside of your QuickBooks application and is ready once you have created your purchase orders. The OrderTrax2 QuickBooks Plug-In automatically searches for your purchase orders and displays them in an easy to view menu. You choose which ones you want to send to your Suppliers. The plug-in sends the PO to the OrderTrax2 network, translates it and delivers the purchase order to that Supplier in a standardized format. It's that easy. After sending your purchase orders, you will be able to track them and communicate with all your Suppliers on the OrderTrax2 page located on DailyBoost.com.
To begin using OrderTrax2 you must first get at least one seat on the OrderTrax2 network. Using the link on this page, you'll go to the Contact Sales area. Enter your information and you'll be contacted by phone within 48 hours to get you set up. It takes no time at all and soon you'll see how easy it is to track your orders and communicate with your Suppliers without the headaches and hassles of missed phone calls, lost emails or faxes.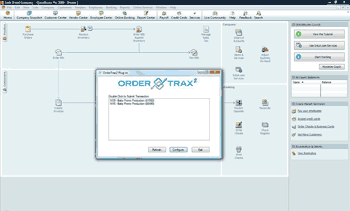 SPECIAL OFFER TO PPAI MEMBERS!
If you are a member of PPAI, your first seat is free! Industry pricing is $249, but members of PPAI get their first seat FREE!
QuickBooks Plug-in for PPAI members is only $99. (Non member pricing is $249)